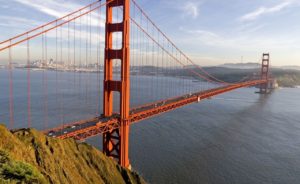 San Francisco, California is a port of call or turnaround port on many cruise itineraries, including Mexican Riviera Cruises, Alaska Cruises, Hawaii Cruises, and Pacific Coastal Cruises. The two main cruise terminals are located in the heart of the downtown waterfront with easy access to Fisherman's Wharf, Alcatraz, and Chinatown. Families can also enjoy cable car rides, a visit to the Exploratorium, or cycle across the Golden Gate Bridge.
Where Cruise Ships Dock in San Francisco
There are two main cruise terminals in San Francisco for cruise ships, Pier 27 and Pier 35 on The Embarcadero. Pier 35 is just south of Pier 39, otherwise know as Fisherman's Wharf. Comparatively, Pier 27 is only a six minute walk from Fisherman's Wharf.
Useful Links for Cruise Port of San Francisco
San Francisco Travel Association – San Francisco Visitor Information
Cruise Port of San Francisco – Cruise Ship Schedule
Google Map of San Francisco, California
Updated March 11, 2023